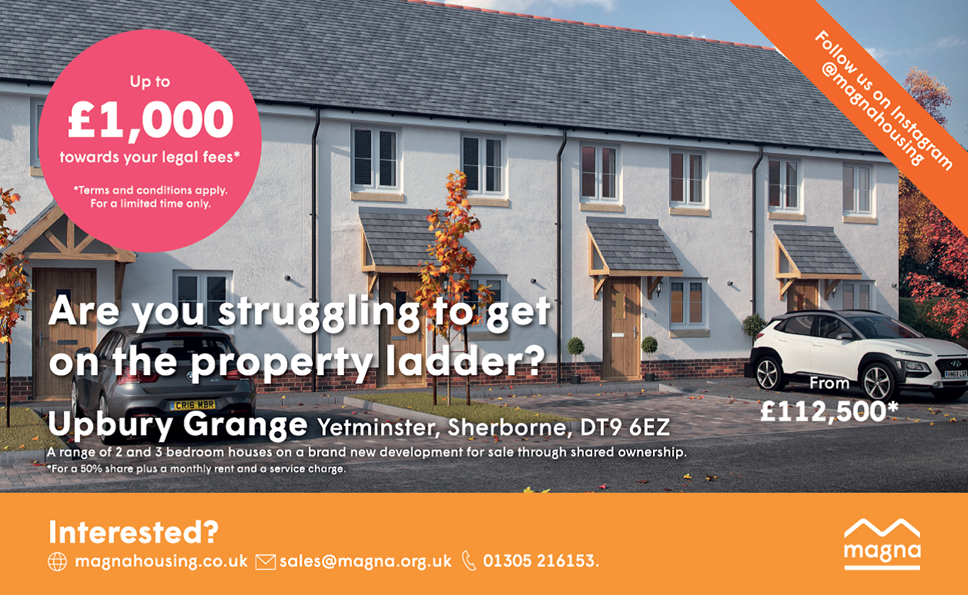 Buy your own home without a huge deposit
With people struggling to get on the property ladder, many remain at home with their parents or end up renting through the private sector which requires a large deposit and doesn't hold the security of homeownership.
Magna Housing is one housing association offering the shared ownership scheme, helping people to get on the property ladder. It's exactly what the name suggests – you buy a share in your home and rent the remaining share from a housing association. Buying a percentage means a smaller deposit and smaller mortgage. It's a faster first step on the ladder for lots of people and usually you can carry on buying shares until you own 100%.
Paul Read, Assistant Director of Development at Magna Housing said: "Some buyers are struggling to pay full market price for homes in Dorset and we can provide a solution for that need. Our aim is to make their journey as stress free and straightforward as possible!"
Magna Housing offers homes to be proud of which are located across Dorset and Somerset. They are currently building new homes across the area, including Yetminster, Beaminster and Bridport, offering a range of properties to accommodate all types of potential owners from 1 to 4 bedroom homes. You can find out more about these new developments at https://www.magna.org.uk/about-us/help-advice-and-information/building-new-homes
If you're wondering if you or a family member is eligible for shared ownership, here are the criteria:
Your annual household income must not exceed £80,000.
You must be able to demonstrate that you have a good credit history (no county court judgements or bad debts)
You must be able to afford the costs and regular payments involved in buying a home
You could be a first time buyer or in the process of selling your existing home
You must not own another property at the time you buy your shared ownership home.
If you're looking for an affordable home to buy in Dorset or Somerset why not visit our website www.magnahousing.co.uk where you can check out the homes which are currently available, plus, view our new animation explaining the shared ownership scheme.
Want to speak to one of the team? Get in touch -
Tel: 01305 216153
Email: sales@magna.org.uk
Instagram:@magnahousing
Contact Information
Tanya Churchill
Marketing Manager
Magna Housing
01305 214047