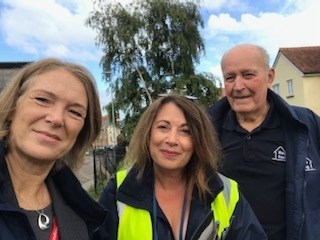 Derick Cridland is our housing hero!
We work with some amazing people. So this year we nominated our most long serving engaged customer for Inside Housing's 'Housing Hero tenant lifetime contribution award'. And we're so proud to say he's been shortlisted!
Engaging our customers is a priority for us so we can make sure that we make decisions based on the experience of those who live in our homes. Derick has been involved in some great work and has really helped to shape many of our services.
Derick Cridland, 80 years young and a retired farm foreman, has been involved with Magna since 2002 when he became a Magna tenant.
We first met Derick in 2003 when he became a member of our Tenants' Panel, attending many community events and meeting with tenants across West Somerset to get their views. He's also been a Board member, a shareholder and has been involved in a range of working groups.
He has helped administer our Community Improvements Fund, reviewing applications from customers to help improve areas where they live and helping to decide the best use of the fund. He's helped select our grounds maintenance contractors and helped set up our garden handyman service. He's also been the mainstay on our neighbourhood inspection programme in West Somerset, going on estate walkabouts throughout the year checking for any issues and raising awareness of customer involvement. This has been done through sun, rain and snow – nothing stops him!
Annie Cole, Housing Officer, nominated Derick for the award. Annie said: "Derick has attended neighbourhood walkabouts with me for many years. He has a great sense of humour, always putting a smile on people's faces as we visit different areas in West Somerset. His dedication and commitment to both Magna and our community is amazing. Derick is always enthusiastic and a great spokesperson for our customers. I'm so glad he's been shortlisted and being recognised for the fantastic contributions he has made over the years."
We called Derick to share the news that he'd been shortlisted and he was over the moon! Derick said: 'I was surprised to be nominated and even more surprised to make the shortlist! I enjoy helping others and being able to make a difference and I love doing it. One of my highlights working with Magna was being part of the Tenants' Panel and chatting to other tenants at our community events.'
Neil Bliss, resident and community engagement officer, said: 'I've known and worked with Derick since I joined Magna. He always gives his honest opinion to help us improve our services for our customers, who are at the heart of everything we do. Making the shortlist makes Derick a winner already but I'm keeping everything crossed for the awards!'
The 2020 Housing Heroes Awards is organised by Inside Housing magazine.
You can read the full shortlist here:
Contact Information
Tanya Churchill
Marketing Manager
Magna Housing
01305 214047